i love traditions!
i am always fascinated by the traditions of those around me, always looking for something new and exciting to try with my family.
one tradition that is tried and true for our family is santa mouse.
before i was ma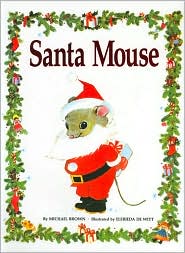 rried and had my own family, my mom instilled the santa mouse tradition in me.
on christmas eve we always read the book
Santa Mouse
, by Michael Brown. then we added
Santa Mouse, Where Are You?
to the reading list.
in case you have never read these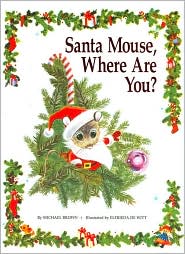 books, santa mouse is santa clause's helper. he goes with him in his sleigh and takes tiny gifts tied with a yellow ribbon. he places these special gifts in your tree.
my nieces and nephews would get so excited about santa mouse.
he used to only visit at grandma's, so it made our family exchange even more special.
the kids would instantly look for signs that the little helper had been there.
but, one year, santa mouse decided it was time to visit each family. he left santa mouse books for each of my siblings to take home.
now that we have our little family, santa mouse makes his presence known. bayli giddily has us read the books throughout december, or whenever she finds them.
then she says, "on christmas eve, we have to be sure and leave cheese for him! oh, and we have to leave carrots or apples for the reindeer. and a treat for santa."
it is so much fun instilling my fondest memories in her.